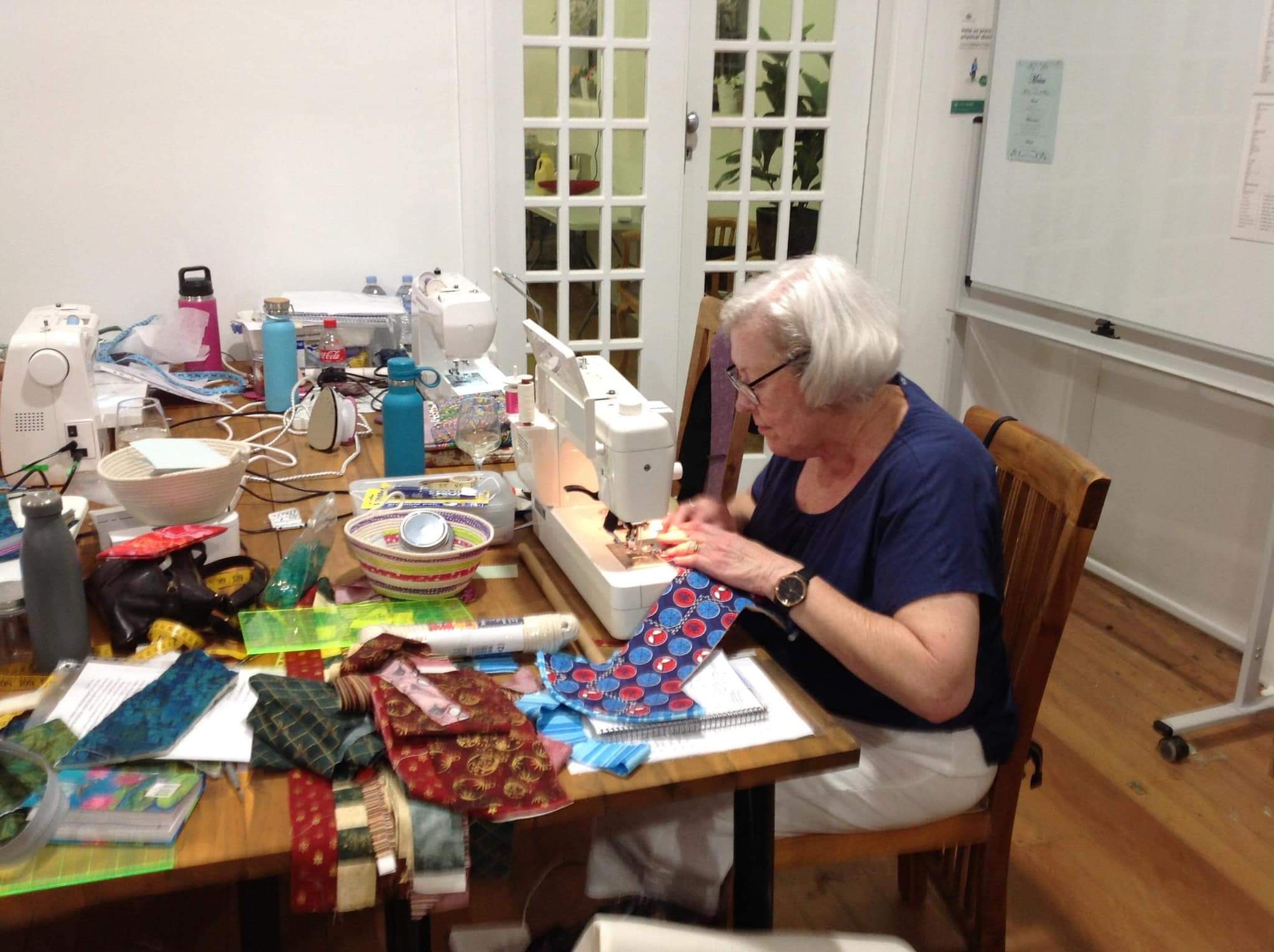 The So Sew Crafty Retreat
Last weekend, 18-20 November 2022, we were very pleased to host the So Sew Crafty sewing group for one of their bi-annual retreats.  It seems that a lot of fun was had by all!  Here's to the next one ladies!
Sky Blue Pink
Mon 28 Feb:  Just managed to delete everything I had just written (I blame the cats wanting to be fed), but probably a good thing as it was a bit of a rant about a certain megalomaniac with Freudian issues who needs a sorting out.  How can one person destroy so many lives.  But then Hitler did it and by the time we cottoned on it was too late.  Where to from here?
Seems that not many people are familiar with the term Sky Blue Pink but we used to get skies in the UK which were both blue and pink like today's photo.  I haven't seen it here much (as we normally get the rich red and orange skies) so today I had to capture it.
On rather more trivial issues, the heat here is just oppressive and we have a few more very hot days to look forward to (41 degrees) before finally getting some storms (which for me is rather more scary due to the potential for lightning strikes and wind damage).  The smaller plants, and those awaiting transplant from smaller pots, have had to have a twice-daily watering to keep them happy.  Must get our irrigation sorted, but there is still a lot of work to be done in preparation.
We heard nice things the other day – one company who sends guests here regularly, actually posts photos of our accommodation on their noticeboard along with details of a job post to the town to entice people to come here (apparently it was a tough posting otherwise!). How nice is that!  Thankfully it works, and we've had some lovely people stay with us.  
I met my first Australian earthworms the other day when I was clearing weeds.  I didn't think we had any as the ground is abysmally hard, and had looked up ordering them online (yes, you can do that!), but seems we have a fair few.  Let's hope they stick with us as we badly need them.  
Night folks.  Thinking of you all in the Ukraine.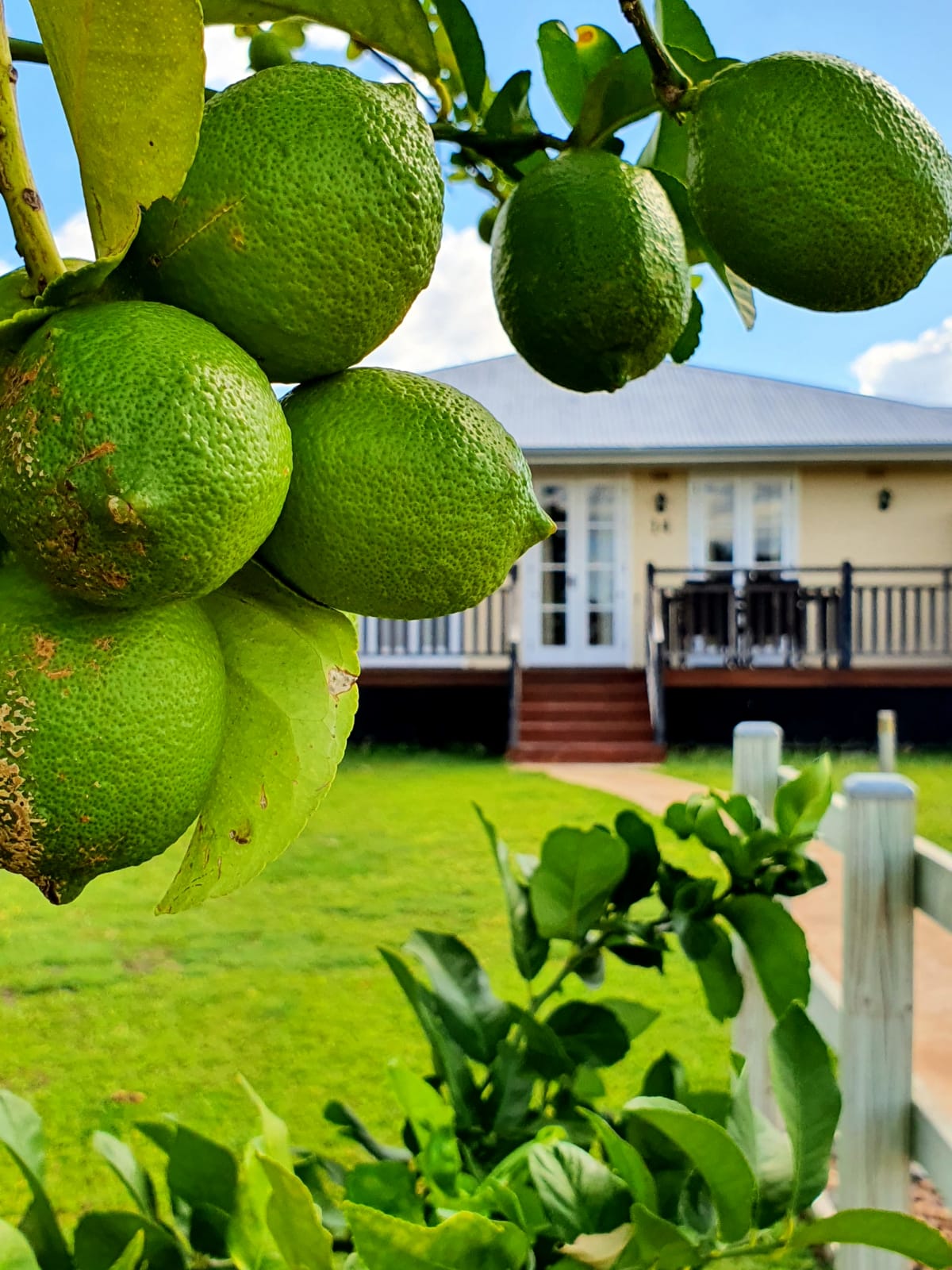 Lemons Galore!
Wednesday 23rd Feb:  Just outside Apartment 14 we have a lovely lemon tree which has given us an amazing number of juicy lemons each year and just keeps giving.  No-one knows how to prune the tree properly (supposed to be shaped like a wine glass so I'm told) but doing it is another thing. Thanks to Christina (one our team here) for the photo!
We recently planted a little orchard of other citrus trees on our new 'roundabout' over by The Annex, but some are struggling a bit from the heat and rock-hard ground.  I'm hoping they hang in there until it cools down a bit and the roots have a bit of courage to argue with the soil.  We did our best to prepare it well for them so I think they just need time (and less wind, and fewer wallabies who just keep breaking their branches).  Such is life.  
Our herbs are doing well – will post some photos of the latest arrivals soon.  So far we have been lucky with pests (including possums), but I have a nasty feeling that the good times might not last for long!  The strawberries don't seem to be producing much and when they do they are a bit 'Odd Bunch' but we'll get there, I hope.
There are more guests visiting at the moment now that Christmas and the long break are well the truly over.  The cricket weekend may have been good the for town but with it came COVID, but best to get it over and done with as it was bound to happen.  We try to limit the potential for problems here by not having any unregistered guests on the property, which is usually fine as a lot of people are here for work or just passing through, but not much cop if you are coming to see family etc.  We hope people understand our motives – we are not trying to be difficult.
Looking forward to bringing you more news about the Secret Garden.  Have had a few hold-ups due to machinery, weather and bugs (but thankfully not THAT one!)
Veggie Patch
Thurs 3 Feb:  Big rain last night (hurrah, no watering needed), but boy do we have to do some major weed clearance instead!  The Secret Garden is coming on nicely and we are so looking forward to opening it up to guests soon – especially during once the temperature drops.  It's lovely in the evening even now (although at tad humid with all this rain), but what I love about Australia is that you just need to give a plant a bit of water and a bit of food (and a good talking to) and it grows so, so well. 
The blueberries and raspberries went in today (I'm still unsure if they'll really take off as I'm told they rather prefer cooler weather) but they have survived two transplants and seem happy enough. We even had half a raspberry a few weeks back!  The capsicum, eggplant, tomatoes and all the herbs are also settling in well. Herb-wise we have Sweet Basil, Rosemary, Vietnamese and Chocolate Mint, Chilli, Oregano, Stevia, Parsley, Lavender and Ginger.  Fingers crossed.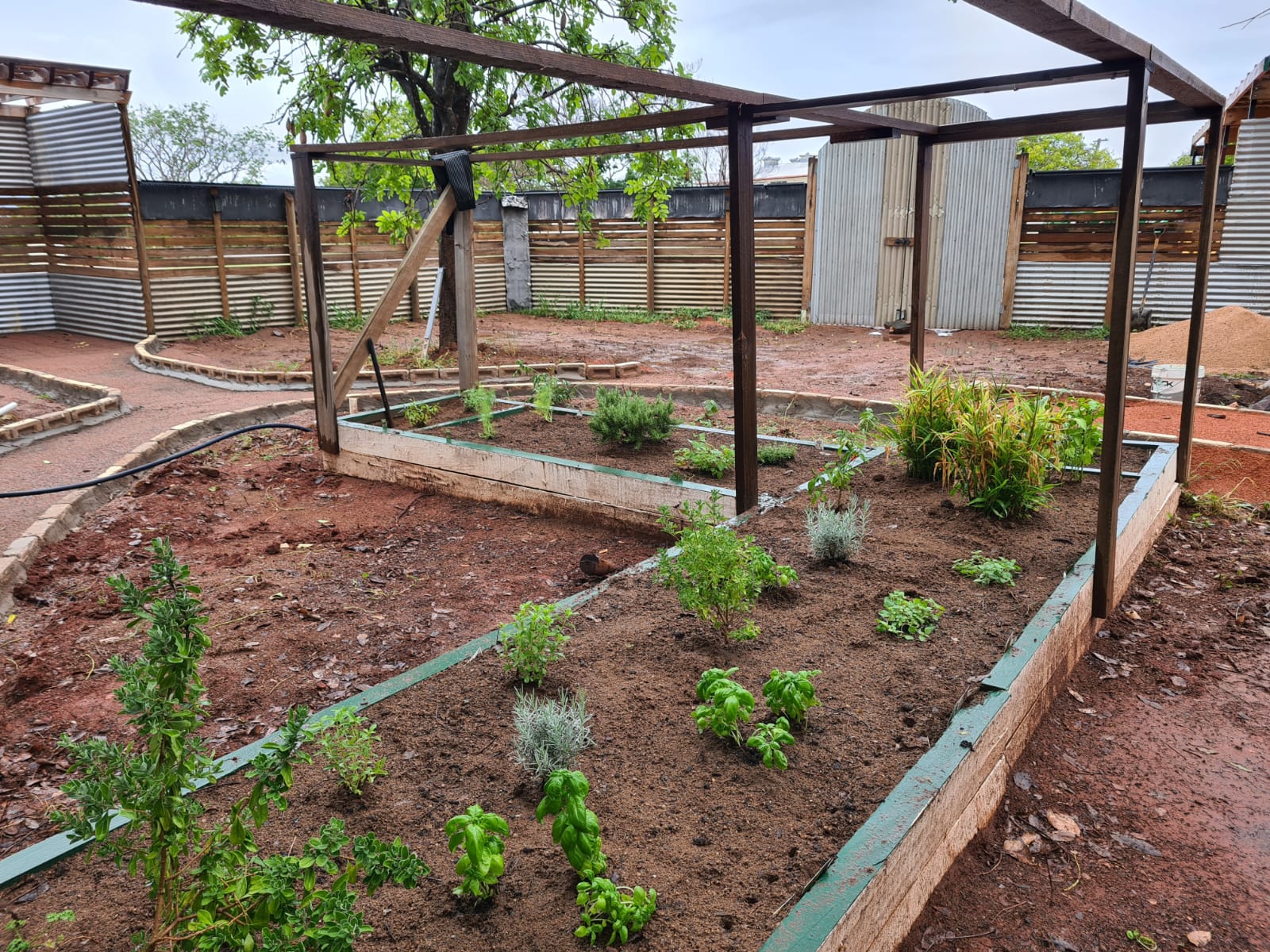 Where Am I?
Walking round the corner of The Secret Garden I bumped into this little chap who let me get so close…  That's actually a full moon in the background!  
Making great progress with the photos, and have taken the plunge with a few posts.  I feel younger already!
Feline Royalty!
Wed 19th Jan 2022:  Well, here's just an easy one for today while I get to grips with this photo software (which is actually quite good once you've got to grips with the basics).   Meet The Duchess and her daughter Princess who have obviously caught sight of something off-screen.   They are in the Secret Garden which is where we take them every day for a change of scene.  My second batch of veggies are in (more of the same unfortunately until I get hold of something new), so we have more capsicum, tomatoes and eggplant.  I have yet to start on the herb-bed but need to do it soon as they are growing fast and need a proper home.  The pathways are coming along very nicely and it's almost time to get the side beds planted out.
What happened in the big bad world today?  Queensland announced it is opening up its borders to international travellers (if vaccinated).  It could almost be said that life might be returning to normal.
Tomorrow may see the citrus trees being planted, but we're still waiting on some soil improver to come back into stock as the ground is rock hard (literally) on the roundabout and they need something for their roots to get stuck into while they settle in. We've chucked lots of 'stuff' down the holes but it's not quite ready.  They'll need as much help as we can give them in this heat. 
Sunrise, Sunset
Tues 18 Jan 2022:  I said I'd show you the end of the day after such an amazing, fire-filled sunrise yesterday.  It's hard to imagine the changes from morning to night but seeing is believing.  
I have also made an executive decision for you to be a part of my learning experience.  I am getting old (or at least old-er) and am still seeking out the best ways to move forward to keep in touch with you all.  Today I found an updated version of a photo-management program so am (as I write) cataloging thousands of photos with the hope of enlightening you with my extraordinarily quick uptake of how to use it (hmmmm!).  Everyone else seems to manage so I'm going to persevere but if I lose faith I'll resort to a much younger person who deals with this on a daily basis.  Won't get me anywhere apart from keeping you up-to-date with our progress a bit quicker, but I have people breathing down my neck to keep you informed of what we are doing, so….
Today's reference point:  the fall-out of the Tongan volcanic eruption (our thoughts are with you all), and of the hostage situation (now over) of the synagogue.   
And what did we do?  Further progress on our Secret Garden (more paths, more weeding), and the planting out of more veggies,  The range is limited at present, but hopefully more seedings will be available soon. In the meantime there are beds to be prepared (although supplies in our local hardware store are limited for our needs) but we are getting there.  We are breaking down the soil in the holes dug for our citrus over on our new West Wing roundabout.  God only knows if we're doing it right, but there is nothing better than to learn from experience.  Night.
I thought The World was burning…
Mon 17 Jan 2022:  Ten minutes later and the sky was pure blue. The Devil's warning was true however – so hot today, and our little plants in The Secret Garden are trying to hard to impress us and improve they are survivors.  As I write I can't believe that this sunrise was today, and will share later the pictures I took this evening as the full moon took the place of the hot, hot, sun.  
Just as a reference point, No-Vak was deported today; for our news we have some lovely guests staying who heard from previous guests that they just had to stay here if passing through (which is ALWAYs nice to hear), we had another two 10s for reviews (again, ALWAYS nice), and yet more return guests.  We are making progress on our two VIPS suites, and (mea culpa), I've actually started writing our blog.  Full of Sangria I must add, but writing anyway!  
Watched by the sunrise, our Secret Garden started taking more shape again early this morning, amidst blood and bone, mouldy leaves and, of course, watched over by a couple of the Kernow Kats (#kernowkats).  Our second veggie bed should be planted out soon, and homes prepared for some of our stunning bougainvillea which are just raring to go once in their final home. Watch this space!
Our New Gym
During the first COVID lockdown we transformed the old Mosman Hall Dining Room into a bright and airy new gym.   With all equipment being brand spanking new, and well-spaced to allow for safe exercising, it is a lovely place to work out, with views to the Outback and our new Golf Driving Range.  Towels and chilled water are provided at the gym but currently there are no showers or washrooms, however it's just a short walk back to your apartment, or you can jump in the pool to cool off after an invigorating work-out.
Our New Short-Stay Accommodation
For overnight or short stays why not try our new Terrace Rooms and West Wing Suites and Apartments. They are all very quirky, and offer a range of facilities, from hotel-style studio rooms just with coffee and tea, to mini-suites with microwave, and finally to our mini-apartments which have small kitchens. The choice is yours – keep coming back and try them all!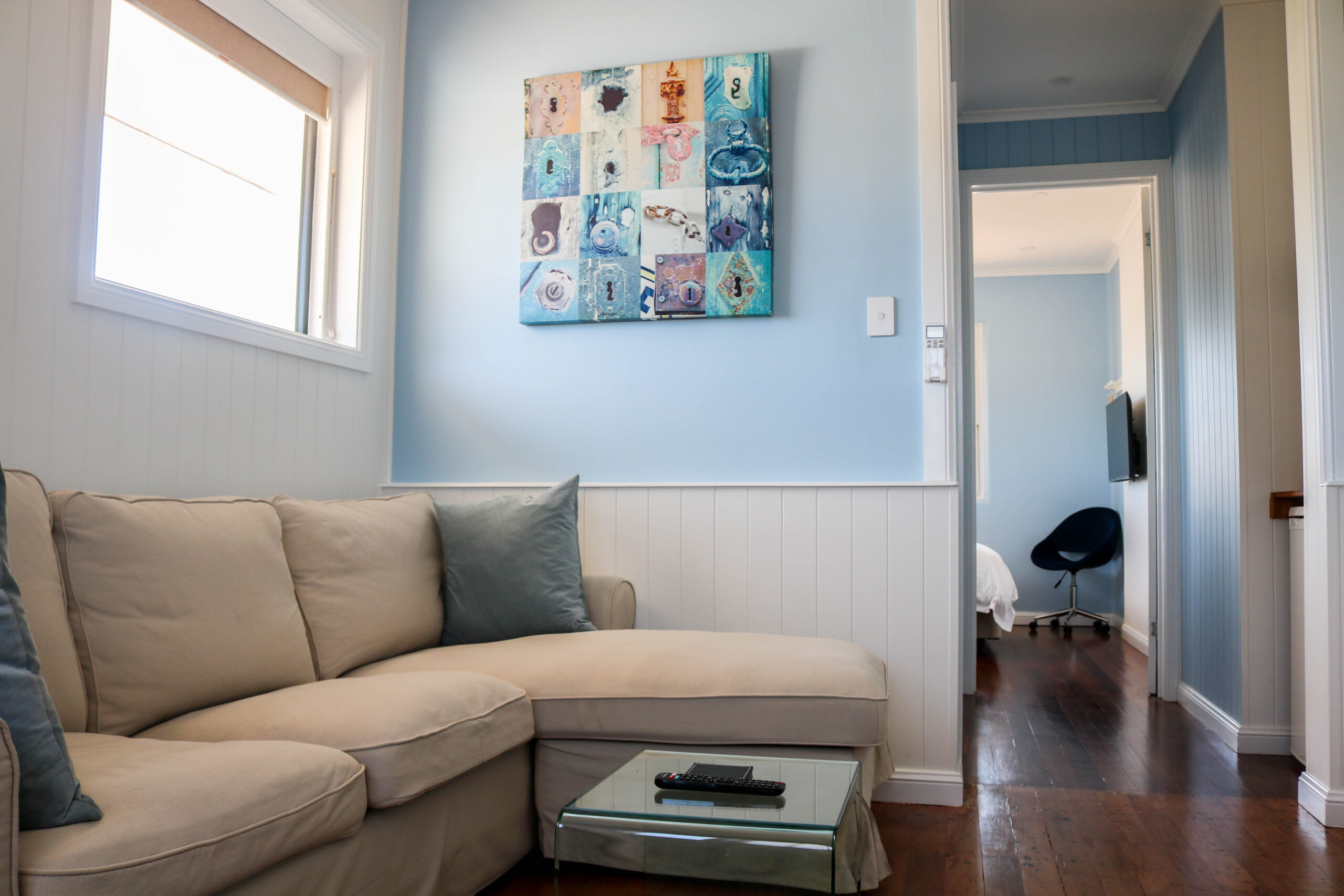 Our Updated Website
Well, what do you think? Thanks to Al and Clari who have been working with us here at Kernow, and who have put together a lovely new website. We'd also like to say a particularly special thank you to Roslyn Budd (Budd Photography) who came and stayed with us (admittedly when everything was green!) and undertook a great photoshoot, and thanks also to Harly, Deklan and Ola our models who did a grand job. Do let us know if you would like to be kept informed of any new facilities at Kernow, or of our day-to-day news and we'll add you to our newsletter.